---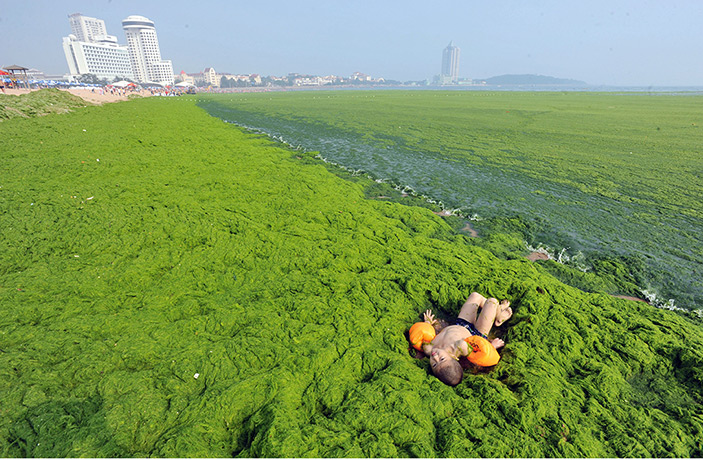 (Video)
- More than
20,000 tons
of
bright green algae
has
washed ashore on China's beaches
in recent weeks, but there's disagreement as to what caused the massive bloom.
The algae began washing ashore about a month ago in the city of Qingdao in China's eastern Shandong province, as it does every year. But this year's bloom is
estimated to be twice the size of 2008's
, when the Beijing Olympic sailing event
was threatened
by a similar bloom.
The Los Angeles Times reports that so far this year the algae has
covered an area of about 11,500 square miles
, which is larger than the state of Massachusetts.
Some researchers believe the algae is from
seaweed farms south of Qingdao
, which grow nori on coastal rafts that attract algae. Others say it may be naturally occurring, or
from fertilizer washed into the ocean
from gardens, farms and golf courses.
Generally, the plant poses no danger to humans, but it can produce a toxic gas if left to rot, the LA Times notes. -
Huffington Post: Algae In China Covers Thousands Of Miles Of Coast
WEB Notes:
From the 2008 linked article you will find,
"In what has become an annual summer scourge, the coastal Chinese city of Qingdao has been hit by a near-record algae bloom that has left its popular beaches fouled with a green, stringy muck."
That near record was hit in 2008 and this new bloom is twice the size, so the record was shattered. Things are not normal on planet Earth.
Share, PDF Download and Print

►